My Blog
Posts for: April, 2017
By Williston Dental Team
April 20, 2017
Dental stains on your teeth often form slowly over time until, one day, you realize your smile has become dull and drab compared to
what it once was. Luckily, your dentist can help you get rid of your teeth's stains and enjoy your smile once again. Learn more about professional teeth whitening treatments with Dr. Gabriel Mannarino and Dr. Holly Halliday at Williston Dental in Williston, VT.
Does professional teeth whitening work?
Professional teeth whitening has proven to provide immediate and dramatic results in just a single appointment, lightening the color of your teeth up to ten shades. At-home whitening kits also provide moderate results, but not as quickly or dramatic as with professional teeth whitening. At-home kits require weeks or months of continued use whereas professional sessions require a single, hour-long procedure.
What can I expect at a professional teeth whitening appointment?
Your dentist begins your session with separating your teeth from your oral tissues using a dental dam. This will ensure that your gums and other tissues are not irritated by the whitening gel. With the mouth prepared, your dentist will apply the whitening gel to your teeth. This gel will remain on your teeth during your whitening session. Depending on the whitening system your dentist uses, they may direct a special light at your teeth to help in the whitening process. You will be left with the whitening gel on your teeth for about an hour, after which your dentist will clean off the gel to conclude your appointment.
Professional Teeth Whitening in Williston, VT
Some patients experience minor sensitivity after their whitening session. If you have a history of tooth sensitivity, be sure to alert your dentist so they can adjust the strength of the treatment accordingly. A good candidate for teeth whitening should have healthy teeth and gums, free of decay and gum disease. Additionally, good candidates have realistic expectations for the results of their whitening treatments and understand that they are not permanent. Most patients return for touch-up appointments every six months to one year.
For more information on professional teeth whitening, please contact Dr. Gabriel Mannarino and Dr. Holly Halliday at Williston Dental in Williston, VT. Call (802) 878-0600 to schedule your appointment with your dentist today!
By Williston Dental Team
April 15, 2017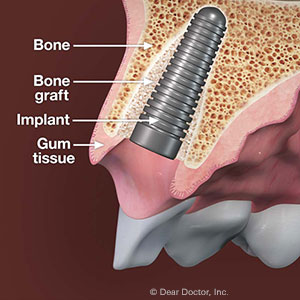 Dental implants are considered the best tooth replacement option available. An implant replaces the root of a tooth and allows for the replacement of the crown via attachments or abutments. They not only look like a real tooth, they function like one too.
Implants, though, for some are a significant investment and may be well beyond a person's financial means if they've experienced a sudden tooth loss. For that reason, many opt for a less expensive tooth replacement option like a removable partial denture.
Later when they can afford it, a person might consider an implant. But this could pose a complication. When a tooth is missing for some time, the underlying bone doesn't rejuvenate normally because it no longer receives stimulation from the tooth. Over time, the amount of bone may diminish. Restorations like dentures can't stop this bone loss and actually aggravates it.
For proper positioning, an implant requires a certain amount of bone volume. So, it's quite possible when the time comes to replace the old restoration with an implant that there may not be enough bone available.
We may be able to overcome this bone loss with bone grafting and regeneration. A specialist such as a periodontist or oral surgeon accesses the area surgically and inserts bone graft material, usually processed material that's completely safe. Properly placed, the bone graft serves as a scaffold that, along with growth stimulators, encourages bone cells to grow.
When the bone grafting has healed enough, we're then able to place the implant. Once imbedded in the bone, one of the implant's unique qualities comes into play. The imbedded post is made of the metal titanium, which is not only bio-compatible with body tissues, it also has an affinity with bone. Bone cells will easily grow and adhere to the implant surface. This further boosts bone growth in the area and strengthens the implant's hold.
These extra procedures to build back lost bone do add to the cost and time for installing an implant. But if you're ready for a more permanent restoration for a missing tooth — not to mention better bone health — the extra time and money will be well worth it.
If you would like more information on dental implants, please contact us or schedule an appointment for a consultation.