My Blog
Posts for tag: smile makeover
By Williston Dental Team
June 21, 2020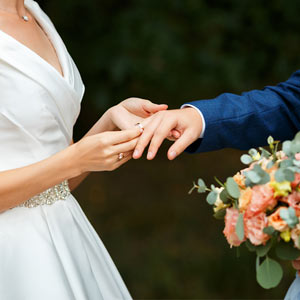 Like thousands of other June brides and grooms, your big lifetime moment has finally arrived: your wedding day! It's been a flurry of activity over the last few months to prepare for it, especially with efforts to look your absolute best. And you remembered everything—including your smile, right?
If you did, kudos to you. Your smile is an important part of your unique personality and thus merits its own special attention. If, however, in all the hustle and bustle you weren't able to give it the attention it deserves before the wedding, don't fret. When it comes to your smile, it's never too late to make it the best it can be.
Depending on your dental situation, here are four ways to achieve a more confident and attractive smile.
Teeth Whitening. Yellowed and dull teeth can dim the beauty of your smile. While daily brushing and flossing helps, you can further improve your teeth's brightness with professional teeth whitening. Our bleaching techniques can give you the shade you desire, from naturally subdued to Hollywood dazzling. And with proper maintenance and touch-ups, your brighter smile could last for years.
Veneers. Dental imperfections like chips, heavy staining or slight tooth gaps can detract from an otherwise perfect smile. We can mask those imperfections with veneers, thin layers of porcelain custom-created to match your teeth. Although less expensive and less invasive than some other cosmetic procedures, veneers can have a transformative impact on your appearance.
Restorations. Sometimes a smile may suffer from severely distressed or missing teeth. Depending on what you need, we can restore your teeth—and your smile—with crowns, bridges or dental implants. The third option is the closest we can come to a real tooth, replacing both a missing tooth's crown and root. With an implant, you can have a new tooth that looks and functions like the real thing.
Orthodontics. Properly aligned teeth make for a beautiful smile. If yours aren't as straight as you'd like them to be, consider orthodontics, the original "smile makeover." Moving teeth where they ought to be improves dental health and function, and can dramatically improve the appearance of a smile. Even if you're well past your teen years, you haven't missed out: As long as you're reasonably healthy, you can gain a straighter smile at any age. However, this improvement needs more time and planning—so don't wait if that's what you want to do!
If you still have time before the wedding, a dental cleaning and polish can do wonders for your smile (and your dental health too). But even if you aren't able to fit in an appointment before the big day, you can still pursue a cleaning or cosmetic procedure after the honeymoon. Any time is the right time to change your smile for the better.
If you would like more information about enhancing your smile, please contact us or schedule a consultation. To learn more, read the Dear Doctor magazine articles "Cosmetic Dentistry" and "Planning Your Wedding Day Smile."
By Williston Dental Team
June 07, 2019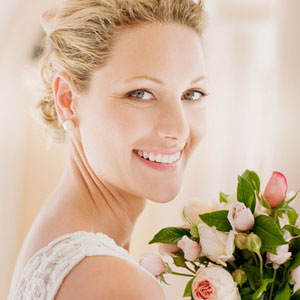 People improve their smiles for a lot of reasons: to better their career prospects, to put some juice in their social lives or just to do something special for themselves. But you may have an even stronger reason: a once-in-a-lifetime event—maybe your wedding day—is coming up soon.
You have several options for transforming your smile for the big day—and some are even quite economical. Here are 4 affordable ways to make your smile beautiful for that forever moment.
Cleanings. While dental cleanings should already be part of your regular dental care, scheduling one right before a big event can do wonders for your smile. Not only can your hygienist remove any lingering dull and dingy plaque and tartar, but they can polish your teeth for a brighter shine. Remember, though: dental cleanings support your own hygiene efforts, they don't replace them. Your own daily practice of brushing and flossing will also help you maintain a beautiful smile.
Teeth Whitening. You can also get an extra boost of brightness with a tooth whitening procedure. Using a professional bleaching solution and other techniques, your dentist can lighten your smile to your tastes, from a more natural hue to dazzling white. The whitening effect, though, is temporary, so plan to see your dentist no more than a few weeks before your big day.
Bonding. Perhaps a tiny chip is all that stands between you and a knockout smile. Your dentist may be able to repair that and other minor defects by bonding tooth-colored materials to the chip site. These composite resin materials have the shine of enamel and can be color-blended to match your tooth's natural shade. Composite resins are also fairly rugged, although you should avoid biting down on hard foods or objects.
Veneers. Although more expensive than the previous options mentioned, veneers are still affordable compared to crowns or bridgework. Usually made of thin layers of dental porcelain, dentists bond veneers to the front of teeth to mask mild to moderate problems like heavy staining, disfiguration and minor gaps. But because veneers are custom-fabricated by a dental lab, you'll need to plan them with your dentist at least six months before your event. The resulting change to your smile, though, may well be worth the wait.
If you would like more information on transforming your smile for a special event, please contact us or schedule an appointment for a consultation. You can also learn more about this topic by reading the Dear Doctor magazine article "Planning Your Wedding Day Smile."